Main Street Singers again entertain at Xmas luncheon 12/6/2017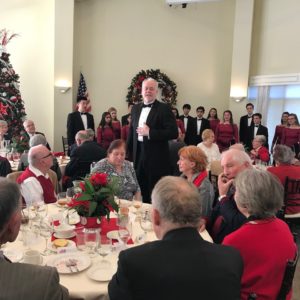 Where's My Dream Car?
On July 5th Steve Tremulus gave a talk on his uncle Alex Tremulis and his 50+ year life work as a automobile designer.  Alex Tremulis is perhaps best known as the Chief Stylist for the 1948 Tucker automobile.  The talk was fascinating and well-received.  As a follow-up, Steve emailed the SIR members with some more info and photos about the gyro-stabilized two-wheeled Gyro-X car.  Here is that mailing reproduced:
Here's a followup on my Uncle's automotive designs.
In 1967 he teamed up with Tom Summers, a gyroscope expert, to create the Gyro-X two-wheeled gyro-stabilized car. The prototype was well-received at the time, but they still couldn't get funding. The car disappeared in the mid-1970's and wasn't seen again until a YouTube video showed up with a guy wanting to know what it was and wanting to sell it. I contacted the guy, but we couldn't fix the missing gyros and other parts. It went to a collector who also couldn't get it running and then he sold it to the Lane Museum in Nashville. After 6 years, they just completed the car in the last few weeks. It debuted at the most prestigious automotive event in the world, the Pebble Beach Concours d'Elegance where it won the Dean Batchelor Trophy as the most significant car related to our Hot Rod heritage. Here's a few pics from the week in Carmel:
Huge crowds gathered around the car.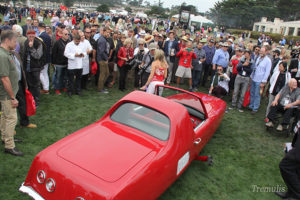 Tom Summers' daughter and I recreating family history: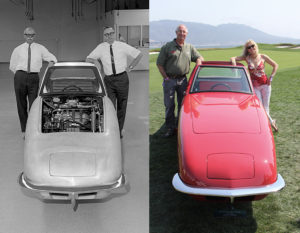 The most coveted piece of fairway in the automotive world, on deck for an award at PB: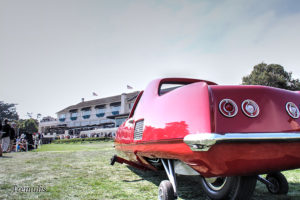 Collecting the Dean Batchelor Trophy: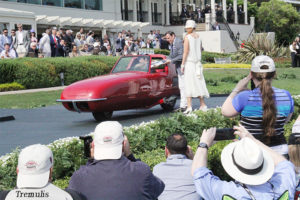 Part of an expert panel discussion on Dream Cars of the '60s (Steve is third from the right):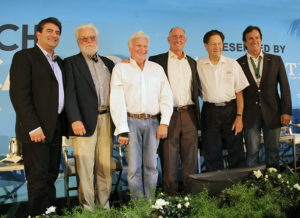 I Shatner'd on Gene Winfield's Reactor: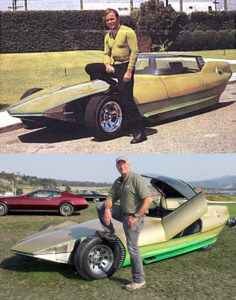 SIR 51 SPRING LUNCHEON and ART SHOW
On June 4. 2014, SIR 51 had a very successful Luncheon and Art Show.  Many exhibits highlighted the considerable talents of the SIR 51 group and their spouses and relatives.
Aaron Metityahu showed us how he makes quality olive oil from his 1100 tree orchard:
Jim Cochrane displayed his hand-carved Welsh-style Love Spoons and other Objets d'Art: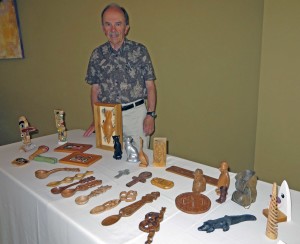 Art Lewis displayed his provocative and unique oil paintings: